Foreword
During the hot and sunny Summer of 1986 I, Albert Rouvray, was a Pommie exchange student from Greenwich University, London, working for the General Electric Company in Sydney for 2 months. My surname is very rare in England with only about 40 individuals in total still bearing the surname throughout the country. Out of curiosity I looked up my surname in the Sydney phonebook. Imagine my astonishment when I found several entries – and then further entries in the Melbourne, Adelaide and Brisbane phone books.
| Sydney phonebook 1985 | Melbourne phonebook 1983 | Adelaide phonebook 1984 |
| --- | --- | --- |
| | | |
Could they be linked to each other? Could they be linked to the English Rouvrays in some way?
Bible with Rouvray inscriptions
Robyn, Albert, Ralph, Scott, Louise
Adelaide, 1986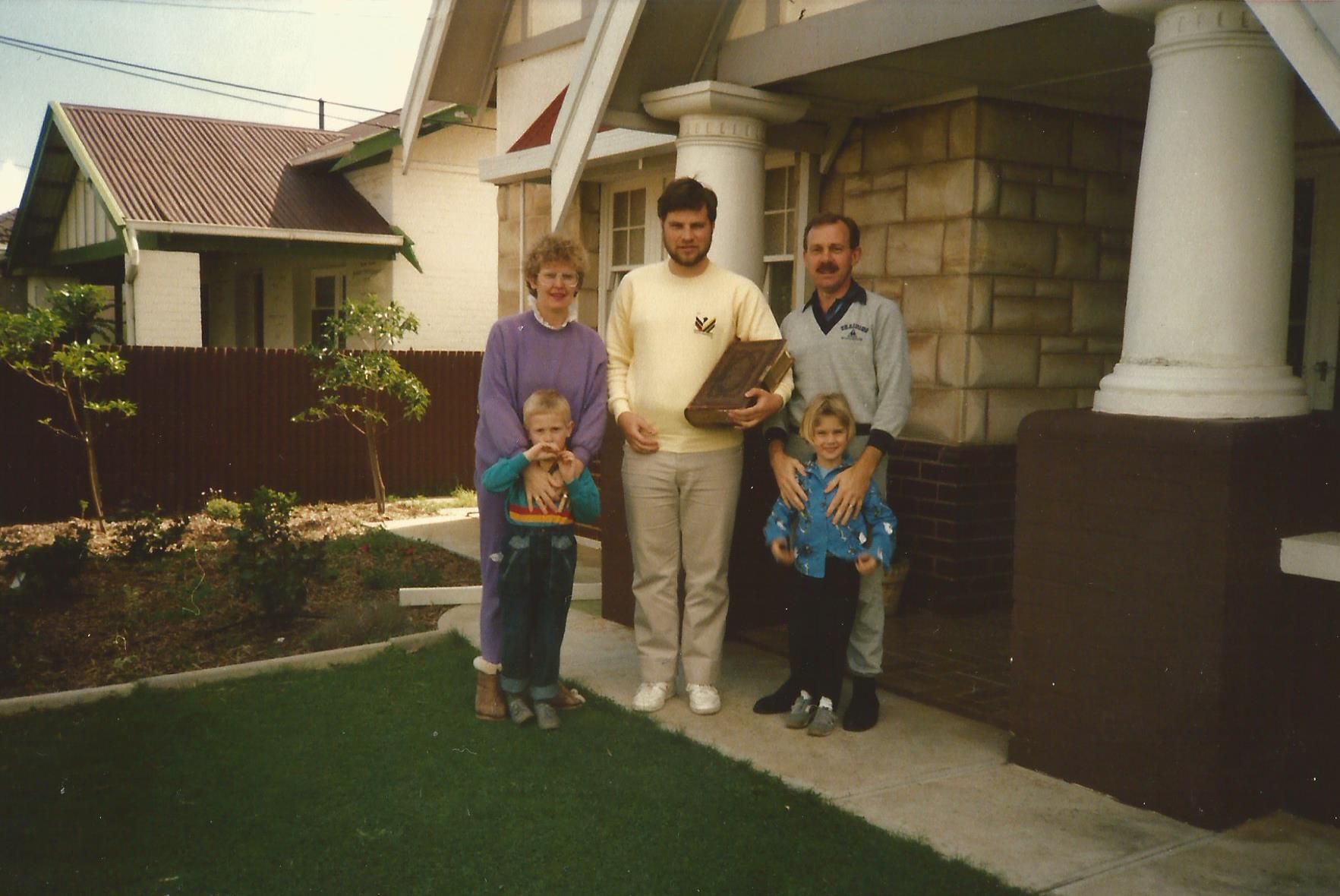 When I contacted and met the Sydney and Adelaide Rouvrays I was shown a Bible inscribed with the names and details of several Rouvrays from the 19th century. These names were familiar to me as I had found their birth certificates in England - but never their death certificates. Suddenly it became apparent – they had left England and emigrated to Australia.
So began a 25 year quest and research effort in both England and Australia. This culminated in the establishing of a direct common ancestor for both the English and Australian Rouvrays, namely Joseph Rouveray, as well as a comprehensive mapping of the interrelationships between the Australian and English Rouvrays.
In 1998 I was married for the second time to Kathryn Thornton from Cheshire, England. The wedding took place at Leez Priory, Essex, England. It was attended by Rouvrays from 4 countries (England, Germany, Australia, Japan) and 3 continents (Europe, Asia, Australia).
It took place in a magnificent grand old Hall, the roof of which was supported by ancient oak wood beams - the Rouvray surname derives from the French word Rouvre meaning (red) oak tree. It was the largest gathering of Rouvrays (16 at the beginning, 17 afterwards) ever in history.
Albert Rouvray marriage
under oak beams 1998

Elisa, Scott and Robyn at wedding
In 2007 Scott Rouvray was married in Australia. This was the largest gathering of Rouvrays, ever, in the Southern hemisphere.
Scott Rouvray marriage, 2007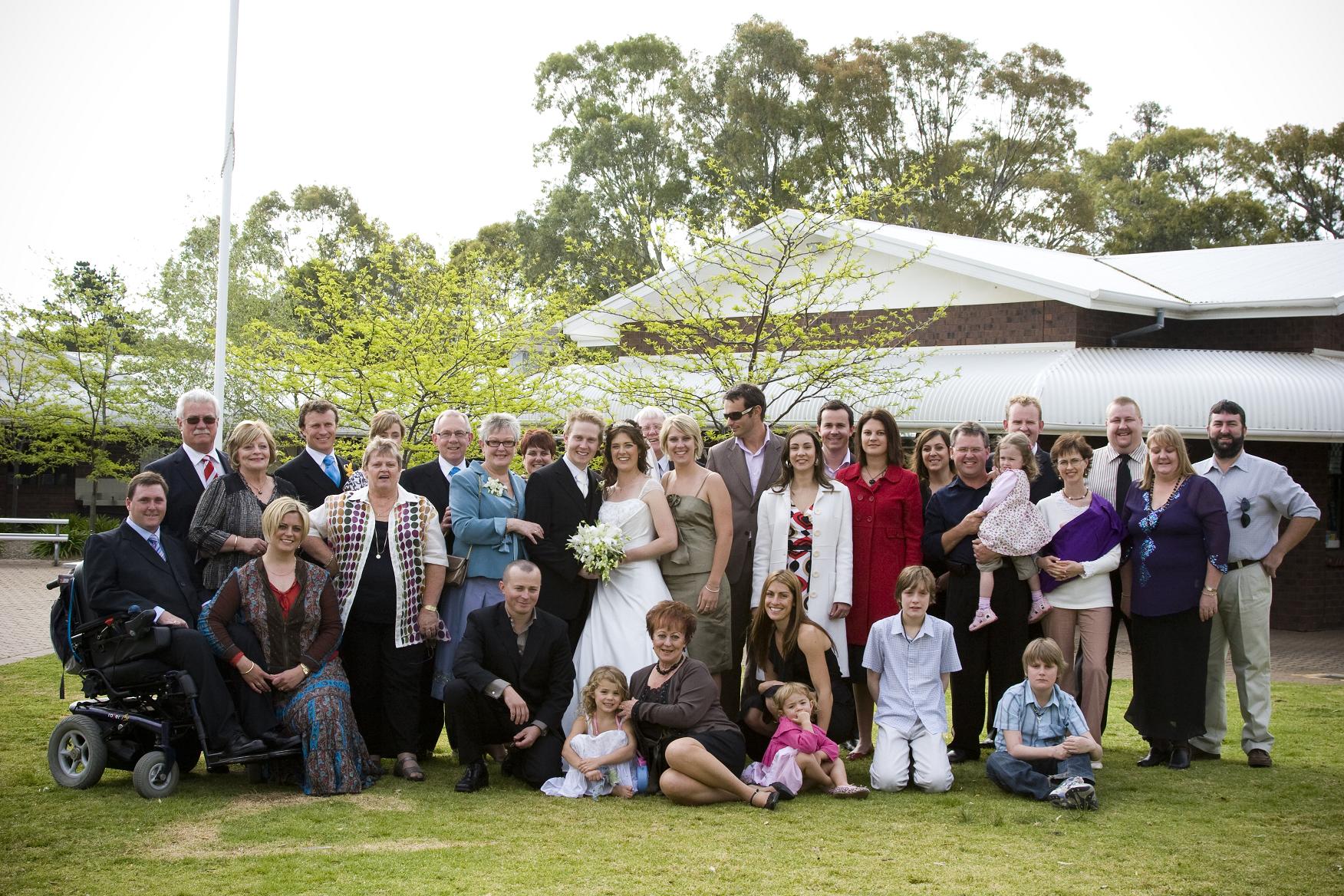 Dedication
This website is dedicated to the memory of James Rouvray and his wife Frances who, in 1854, chose to leave their family and friends in England to make a perilous journey with 9 children across the oceans to make a new life on the other side of the world in Australia.
Acknowledgements
This record is a compilation of the facts, research, stories, memories and photos from many members of the Rouvray family across the globe. The assistance of all those who have contributed to this project is gratefully acknowledged. Many thanks to all for your generosity, willingness to share information, determination and tenacity over decades to keep the Rouvray ball rolling.
Disclaimer
Authours and contributors have made very great efforts, repeatedly cross referenced documents and taken great care to ensure the accuracy of information and sources contained within this website. However, no liability or responsibility whatsoever is accepted for the truth or accuracy of the facts or the opinions of the contributors presented herein.