Albert (Bert) Gray Rouvray (1880 - 1959)
Albert Gray Rouvray was born in 1880 in Talbot, Victoria. He is the only son of James Alexander and Eliza Jane. He had five sisters at the time of his birth, one had died previously and another was born two years later.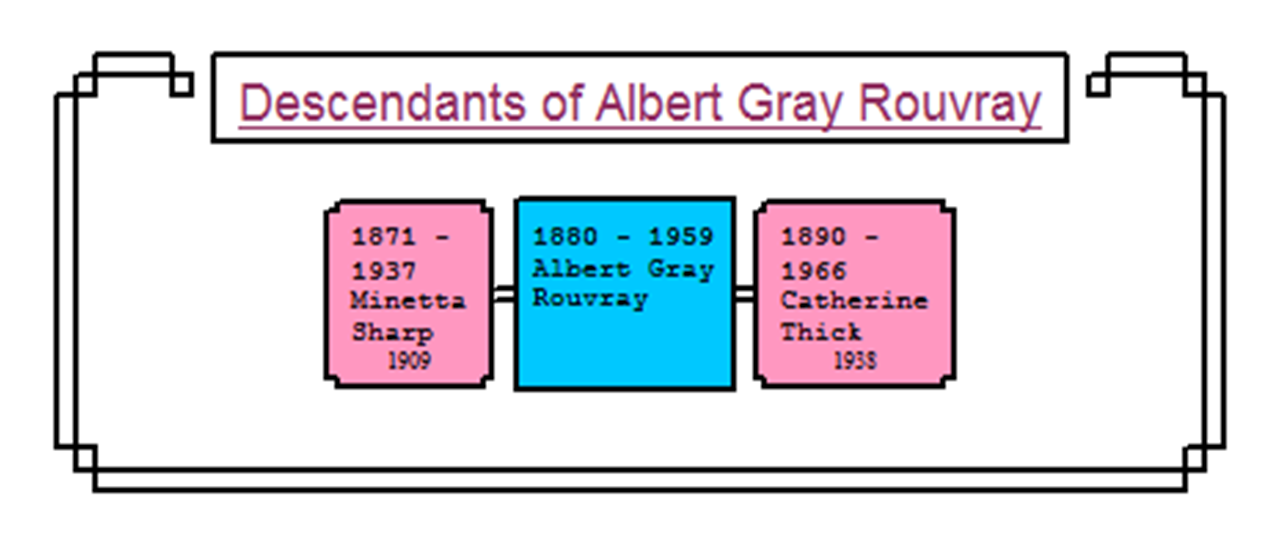 Bert's father James Alexander was station master of Talbot and in 1885 was transferred to the suburban station, Burnley, taking his family with him. This is all we know of Bert's childhood.
In 1909 Bert married Minetta Sharp, daughter of John Henry and Mary Anne (Murray) Sharp. Minetta was born 1879 and died in Hampton on 10 October 1937.
After Minetta died, Bert remarried in 1938, to Catherine Thick who was born 1890 in Stawell, Victoria, the daughter of Charles Thick and Bridget Reidy.
The first electoral roll, 1903, gives a snapshot of the family. They lived at Ballantyne St Northcote. Father was retired having 'independent means' as he put it. Bert was described as an agent. Emily was described as 'home duties', Lucy as a dressmaker and Agnes, not yet 21, did not appear, although she later appeared as a 'fine needleworker'. While Lucy and Agnes were always fairly slender women, Em was always a little bit plump, perhaps reflecting her role as cook.
Bert's father died on 28th May 1906 leaving him the sole male and nominal head of a heavily female household, of which he was almost the youngest member. Bert passed away in Sydney on 6th Oct 1959 in St Leonards, NSW and Catherine died in Sydney 24th April 1966.