Herbert Gray Rouvray(1879 - 1959)
Herbert Gray (sometimes called Grey) Rouvray was born in Prahran, Heidelberg, Victoria on 25th August 1879, son of Charles Peter Rouvray and his wife Martha Ann (Holt). His father was one of a family of children born in London , who married in Melbourne.
Herbert Gray Rouvray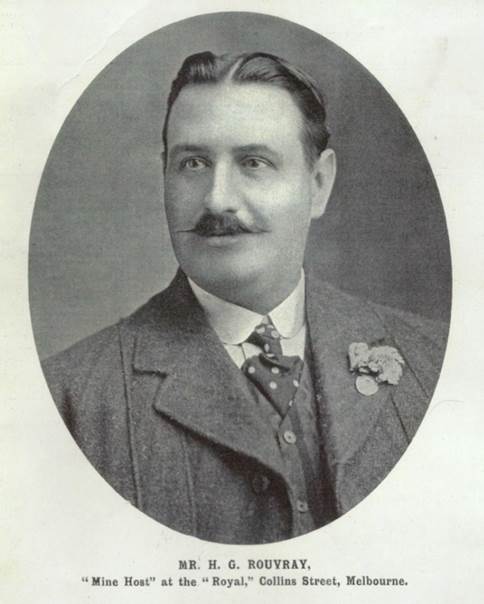 Herbert was raised in Prahran but felt the need to travel and see the world. Whilst working as a ship's pilot in Capetown , he met Emily May Waters, daughter of George Waters and Eliza (nee Bratten) born 11th Oct 1878. Emily had just arrived from Tunbridge Wells, Kent, England. She had earlier lost her mother, brother and two sisters in a diphtheria plague. She had seen and was answering an advertisement in the newspaper for an English nanny for a family in South Africa, and Herbert was the first person she asked for directions.
Subsequently Herbert decided to court Emily, who then would have been about eighteen years old. At age twenty Emily left the family she had been working for. Emily and Herbert married on 3rd Jan 1901 and had two or possibly three children whom they raised in Johannesburg. Whilst working in South Africa Herbert worked as a mounted policeman.
They came to Australia in July 1905 aboard the steamer ship SS Ionic. SS Ionic was a steam-powered ocean liner built in 1902 by Harland and Wolff in Belfast for the White Star Line. She served on the United Kingdom – New Zealand route and began her maiden voyage from London to Wellington via Cape Town in January 1903.
A Customs question arose upon the arrival of the steamer in Hobart, Tasmania. The family had brought a South African native servant, who had been employed by them for five years, and they were desirous of retaining her. Before leaving Capetown the Authorities had told Charles that if he would sign a declaration to send her back, if she desired to leave them, then it would be all right to take her to Australia. He did. But Australian law was imperative, and, although Charles stated that he would financially guarantee anything within reason, the girl was not permitted to land, until the agents of the steamer signed a bond for £100 that she would be returned by the first boat to South Africa from Melbourne. The party then left for Melbourne on the ship Loongana. Presumably the domestic servant returned to her homeland shortly thereafter.
Herbert and his family returned to England in 1906. Herbert was working as an insurance agent at the time his son Herbert Charles was born in 1910. Herbert later brought his family home to Australia where they had two more boys, Ben and Ian.
| SS Ionic | Emily May Waters |
| --- | --- |
| | |
Herbert Gray and Emily May had six known children:

Elsie May Agnes	b. Cape Town, South Africa, 2 August 1901		d. Heidelberg Victoria Austalia, 20 December 1973
					married:	William Charles Thomson 4th August 1920 (b. 5 January 1896. d. 15 October 1930)
					children:	Joan Rouvray Thomson		 	b 20 December 1921
							Alan Rouvray Thomson 			b 9 September 1923
							Margery Claire Thomson 		b 27 September 1925
							Wilma Faye Thomson 			b 17 February 1929 
Alice Emily (John)	b. Newlands, Johannesburg, South Africa, December 1903	d. 1978, Bendigo, Victoria, Australia
					married:	George Frederick Murphy 1924 New Zealand (part Maori, b. c. 1896)
					children:	Neri-Ha
Eileen Gertrude		b. Cape Town, South Africa, abt. April 1904		d. Clifton Hill, April 1915
Herbert Charles		1910-1986
Benjamin Jack			1912-1973
Ian Gray				1914-1987

Charles Hartley and brother
Herbert Gray
Herbert Gray
1915
Gravestone
1959
Herbert was working as a licensee of the Royal Hotel from 1911 to July 1915 when he enlisted to serve in World War 1 as Private 4295 of the 6th battalion. He embarked on 29th Dec 1915 aboard HMAT Demesthenes and later became a sergeant. According to his grandson John Rouvray, husband and wife were living separately not too long after he returned. One is tempted to connect this to the death of their daughter Eileen, who died of diphtheria only months before he enlisted. They had a short reconciliation of about six months but then separated permanently.
Herbert became a well known personality in Coburg, as creator and editor of The Coburg Courier newspaper, a member of the Buffaloes Lodge, and has his name on the honour roll at the Coburg R.S.L. in Sydney Road. He also worked as a government auditor.
Herbert Gray had a hump back, but was an immaculate dresser and Emily had "never a hair out of place" so she says. He would sit and roll his daily supply of cigarettes on a little machine he had for the purpose. Herbert died 7th Oct 1959, aged 80 years, and was cremated at Fawkner Crematorium and Memorial Park, Melboune. Emily died 14th Jan 1966 and was also cremated at Fawkner on 17th Jan 1966.