Charles Peter Rouvray (1847 - 1919)
Charles Peter Rouvray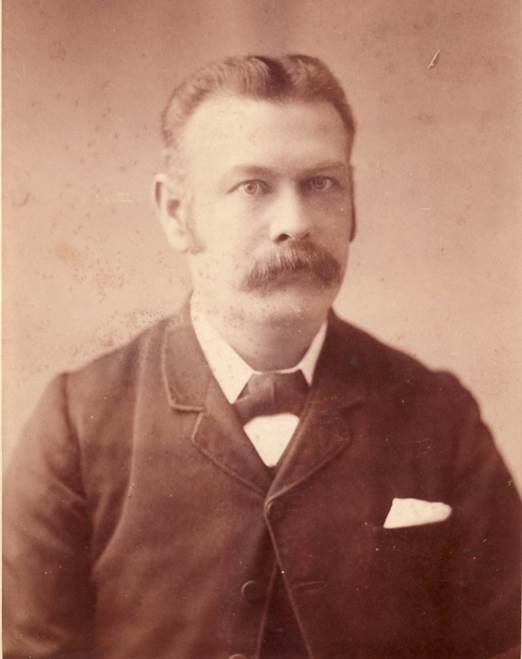 Charles Peter Rouvray was born in St Pancras, London 16th Dec 1847, son of James Rouvray and his wife Frances (Fanny).
In 1854 James emigrated with his family to Australia on board the ship "James Carson". At the time Charles Peter was one of James and Frances eight children, a ninth child having died during the voyage.
On 20th Feb 1873 at the All Saints church, St Kilda, Charles married Martha Ann Holt, (daughter of Thomas Holt and Ann nee Hartley) who was born in Rochdale, England in 1849. Martha had emigrated to Australia with her parents in 1856 at the age of seven. She returned, briefly, to England as a teenager to visit her relatives in Rochdale, Manchester. The church, completed in 1861, is said to be the largest Anglican parish church in the Southern hemisphere.
Charles Peter and Martha had seven children:

Mary (May) Hartley	b. 1875, Prahran	d. 1955, Ormond		
						married 1898 to Cuthbert Henry Corke, b. 1873 d. 1956
						Children:		Cuthbert Rouvray (Ray) Corke 	1899 - 1961
									Nancy Elaine Corke			1901 - 1972
									Graham Rouvray Corke 			1904 - ????
									Kathleen May Corke			1909 - 1934
									Neil Hartley Corke				1913 - 1983
Charles Hartley		b. 1877			d. 1898, Albury, NSW
Herbert Gray			b. 1879, Prahran	d. 1959, Heidelberg, Victoria
						married Emily May Waters b. 1878 d.1966
Alice Emily			b. 1881, Prahran	d. 1964, Mornington
						married 1912 to Alfred James Kirton, b. 1877 d. 1960
						Children:		Joan Milburn Kirton			1913 - 
									David Charles Kirton			1916 - 
									Margaret Rouvray Kirton		1918 - 
Martha Amy			b. 1883, Prahran	d. 1961
						married, 1915 to Robert Marshall Jones, d. 1963 
						Children:		Peter Marshall Jones			1916 - 
									Bronwyn Marshall Jones			1918 - 
James Hartley			b. 1885, Prahran	d. 1968, Katoomba, N.S.W.
Lilla Agnes			b. 1888, Prahran	d. 1962, South Australia
						married 1918 to Claud Lancelot Alsop b. 1888 d. 1967

All Saints' Anglican Church, St Kilda, Melbourne, 1908, 2008
It is said that Charles had a lovely singing voice. He performed for the church during their charity concerts to help raise funds for building the new church steeple and also in a concert at Prahran Town Hall to raise funds to repair the roof of the Southern Rifles Corps Orderly Room after a fierce storm.
Martha and her parents are buried at St Kilda cemetery. She died in 1894 at Prahran, Victoria. Charles Peter Rouvray died 24th Sep 1919 and is also buried at St Kilda.
Martha visiting Rochdale,
Manchester

Charles Peter Marriage
to Martha 1873

Gravestone Martha, 1894
and Charles Peter, 1919