Joseph Rouveray (abt. 1765 - ????)
To date the earliest documented and proven direct ancestor traced in our family is Joseph Rouveray who was born about 1765.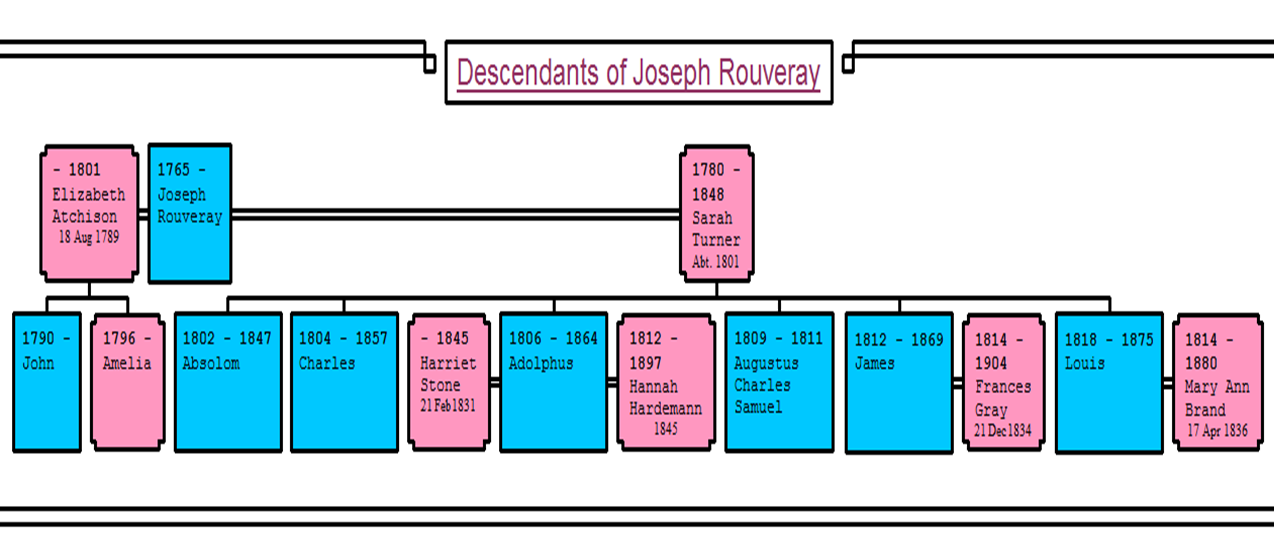 The evidence for this inital spelling of his surname comes from the Pallot's Marriage Index for England (1780-1837) entry for his marriage and the baptism certificate of his son James in 1813.
| Rouveray Pallot's Marriage Index | Joseph Rouveray on James birth certificate 1813 |
| --- | --- |
| | |
It is unclear why or when but at some point the spelling of his surname changes from Rouveray to Rouvray. The evidence for this later spelling of his surname comes from his son Adolphus' marriage certificate, 1845 and his son James' death certificate, 1906.
Joseph Rouvray on son Adolphus marriage certificate 1845

Joseph Rouvray on son James death certificate 1906

It is uncertain where Joseph was born. His birthplace was given in a court case in 1805 as being Germany, although it was almost certainly actually in France. Whether this was for fear of deportation back to France or whether he came from that part of France, Alsace-Lorraine (German: Reichsland Elsaß-Lothringen), which has at times belonged to Germany is not known.
According to his son James' death certificate, Joseph was a French Interpreter. According to his son Adolphus' marriage certificate his profession is given as valet.
Joseph's life before arriving in England is not well known, but a book written in 1961 which references Joseph's daughter in law, states that her father in law, "Monsieur de Rouvray had lived, it seemed, in a strange place, the King's Bedchamber, until he had been chased away by the terrible mobs in Paris." This suggests that Joseph was in close association with King Louis XVI and had the wisdom to flee to London before being arrested. This may also explain his reluctance to return to France.
Louis XVI was beheaded in 1793. France became a Republic. The French Royals and other nobility fled to Coblenz, Germany just over the border from Alsace-Lorraine in France. Joseph may have accompanied the court there before moving on to London.
Intrigingly the name Louis appears in many subsequent Rouvray generations, up to and including the present one. There are currently two Rouvrays (as of 2015) having the name Louis.
1801 Burial Elizabeth Rouveray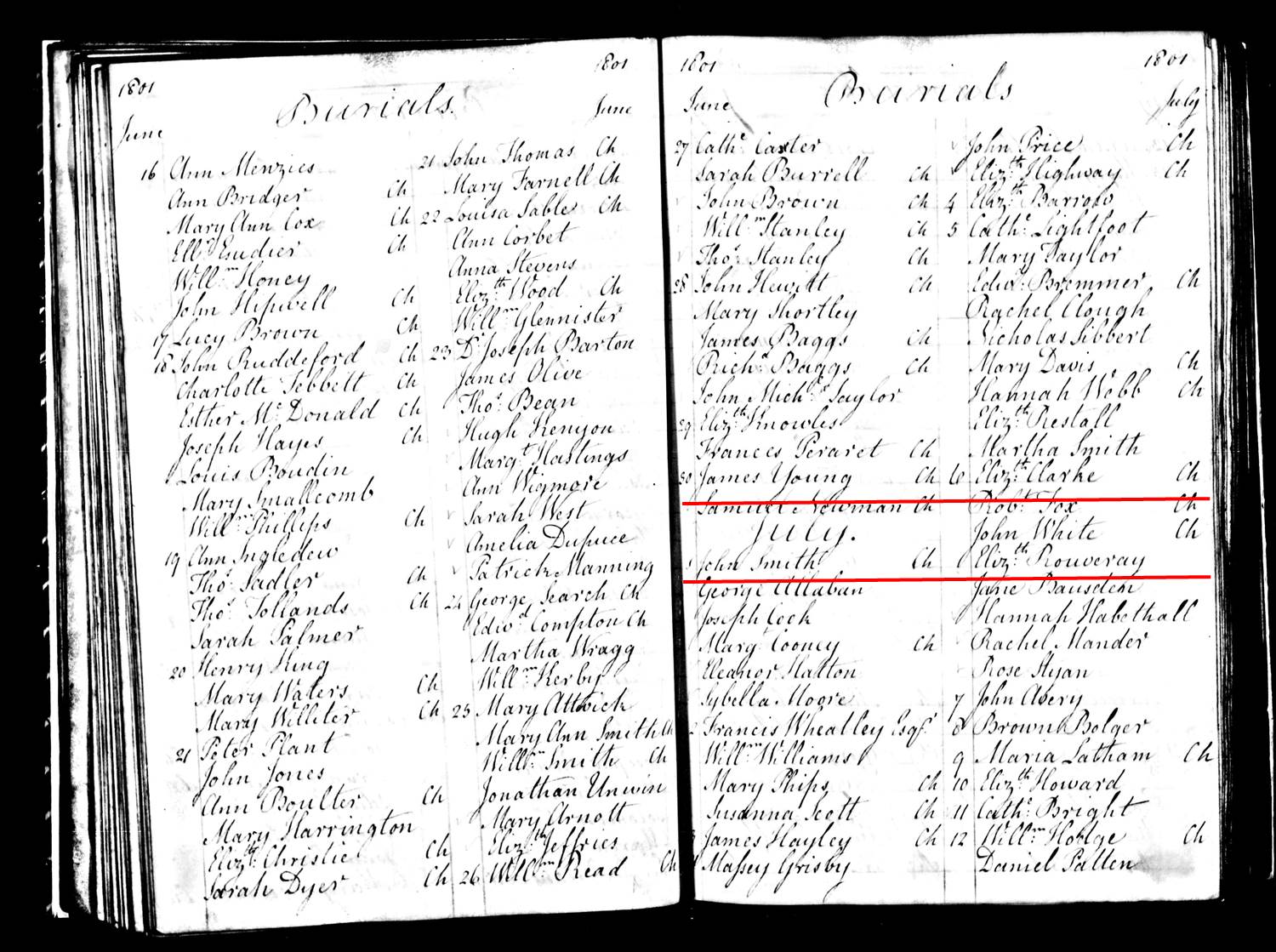 Joseph Rouvray married twice. He married his first wife Elizabeth Atchison in the Parish Church of St Mary-Le-Bone, London on 18 August 1789, after banns read on the 2nd, 9th and 16th August. Both Joseph and Elizabeth were literate and signed the church register. This church features prominently in the family as both Elizabeth was buried and many of their children baptized there.
Joseph and Elizabeth are known to have had at least two children, John [Roewery on Ancestry, Rouvery in familysearch] (b. 16 Dec 1789, chr. 17 Jan 1790) and Amelia [Rouveroy] who was born on 20 Feb 1796, chr. 13 Mar 1796 at St Mary's church, St Marylebone. Elizabeth [Rouveray] died and was buried on 6 Jul 1801 in the grounds of St Mary's church, St. Marylebone.

John Rouvray		1789-????
Amilia Rouvray	1796-????

Joseph's second wife was Sarah Turner, born Worcester 30 Sep 1780. Their marriage certificate has not been found, although, tantalizingly, there is a Pallot's marriage index record giving Joseph's [Rouverey] name and the church St. Mary's, Marylebone but, alas, no year or bride's name. As Elizabeth died in 1801 and Sarah's first child was born ~1802 it seems likely the marriage took place about 1801. Sarah died on 2 Sep 1848 (registered as Rouvnoy) in St Marylebone Workhouse from diarrhoea. Joseph and Sarah had six children:

Absolom		b. ~1802-03,		d. 16 Mar 1847, St Marylebone
Charles		b. 5 Aug 1804,		buried 27 Mar 1805, St Marylebone
Adolphus		1806-1868
Augustus Charles Samuel		b. 31 Aug 1809,	chr. 24 Sep 1809, buried 11 Dec 1811, St Marylebone
James		1812-1869
Louis		abt. 1818-1875

In the 1841 Census "Absolum" is recorded as living with Sarah [Ruvery] in Cleveland Street, Trinity District, St Marylebone aged 35 years with the occupation of shoe maker. Sarah is aged 60 and is a charing woman (cleaner).
The Infirmary record of Absolom [Rouvery]'s death states that he died on 16 Mar 1847 at 6 pm, from 'Medical' reasons for which he was admitted to the infirmary on 29th Dec 1846. His record is designated 'W.H.' not 'Out' which suggests he may have been admitted from a workhouse. The infirmary record also states that he was 44 years old when he died.
The Family Bible verifies Absolom's date of death but states he was 45 years old, so his birthday may have fallen in the first three months of the year. From this, his age at the 1841 census would have been about 38 or 39 years but as was customary with the 1841 Census, the age of an adult was rounded down to the nearest five years.
Joesph's last two children namely James and Louis are respectively the direct and only ascendants of the modern day Australian and English Rouvray family branches.
1805 Trial
Joseph & Sarah Roveray

1841 Census
Sarah (60) and Absolom (35)
It would appear that James and Louis were the only children of Joseph and Sarah to have had children themselves.
On 18 Sep 1805, Sarah stood trial on a charge of grand larceny (theft) and Joseph was charged with receiving stolen goods. The Old Bailey trial notes are as follows:
"SARAH ROVERAY and JOSEPH ROVERAY were indicted, the first for feloniously stealing, on the 2d of July , two pinafores, value 2 s. one pair of stockings, value 1 s. three half handkerchiefs, value 3 s. a tea-pot, value 6 d. one knife, value 2 d. one tea cup and saucer, value 6 d. three tippets, value 6 d. and one child's frock, value 5 s. the property of William-Raymond Deykin ; and the other for feloniously receiving on the same day, two pinafores, value 2 s. one pair of stockings, value 1 s. three half handkerchiefs, value 3 s. one tea cup and saucer, value 6 d. a knife, value 2 d. and three tippets, value 6 d. he knowing them to have been stolen.
It appeared in evidence that the prisoner, Sarah Roveray, said the articles in the indictment were given to her by her mistress, and the prosecutrix not appearing in Court, the prisoners were Both ACQUITTED -- First Middlesex Jury, before Mr. Justice Heath."
At the trial, Sarah's age was given as 28 (even though it was 25) and Joseph's was given as 42. No death record for Joseph has been found.
St Marylebone church, Middlesex, 1750, 1814 (rebuilt), 2014