Louis Rouvray (abt. 1818 - 1875)
Louis was born about 1818 and is the son of Joseph Rouveray.
Louis is the direct ascendant of the modern day English branch of the Rouvray family. His brother James is the sole direct ascendant of the entire Australian branch of the Rouvray family.
Louis marriage to Mary Ann Brand,
17th April 1836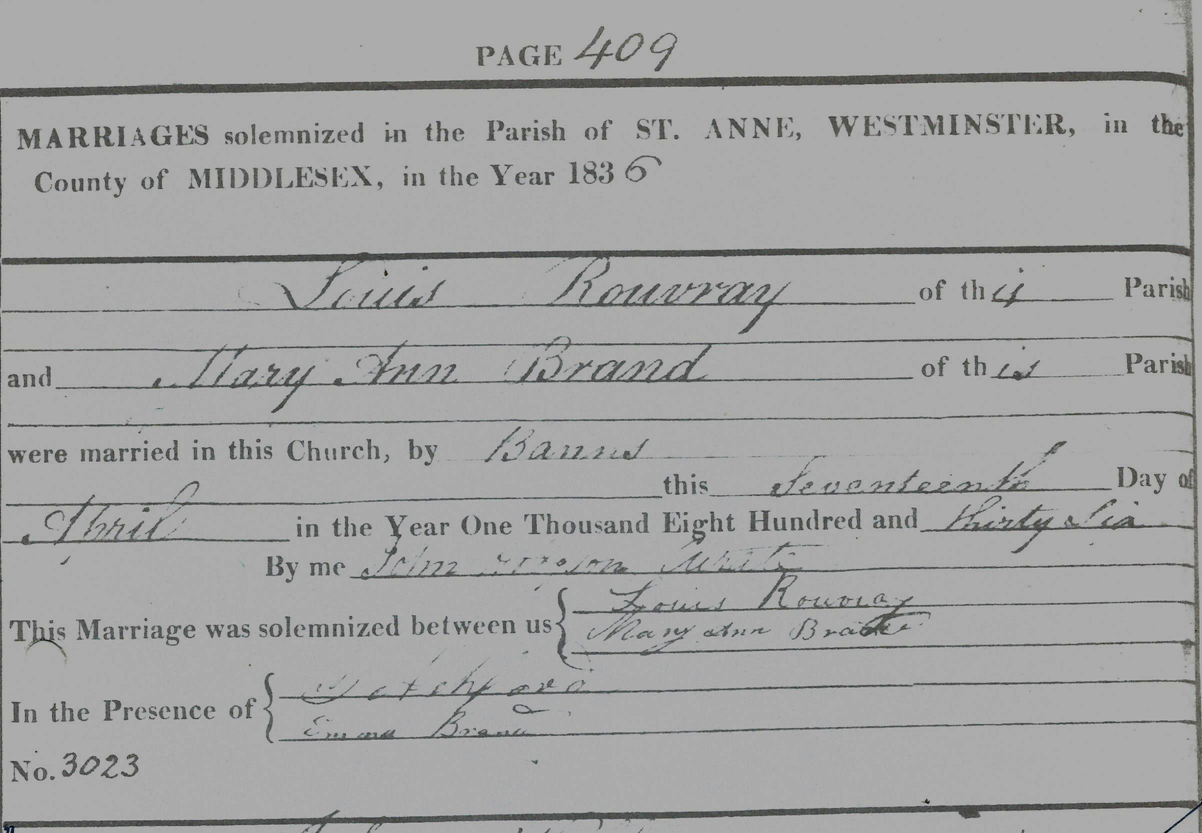 Louis' date of birth is not certain as no baptism record has been discovered, but marriage, census and death records suggest his birth year to be somewhere between 1816 and 1818. It is not totally certain that he is the son of Joseph Rouveray and Sarah but there are a number of facts which taken together, provide a very convincing case:
• From the 1871 Census we glean that Louis, like his siblings, was born in the Parish of Marylebone. In 1871 Louis was living in the Parish of St Pancras with two of his sons - James, 13 and William, aged 11. His profession is given as cabinet maker.
• There are no other known Rouvray families in London producing children at the time.
• He, like Adolphus and James, was a skilled cabinet maker. Adolphus was a member of the Chairmaker's Guild, so must have been a master craftsman. James was listed at various times as a carpenter and a pianoforte maker. He would almost certainly have made the wooden cases for the pianos rather than the internal workings, but would still have needed to be a skilled cabinet maker to do this.
1871 Census
Louis living with sons James (13)
and William(11)
14 University Street, St Pancras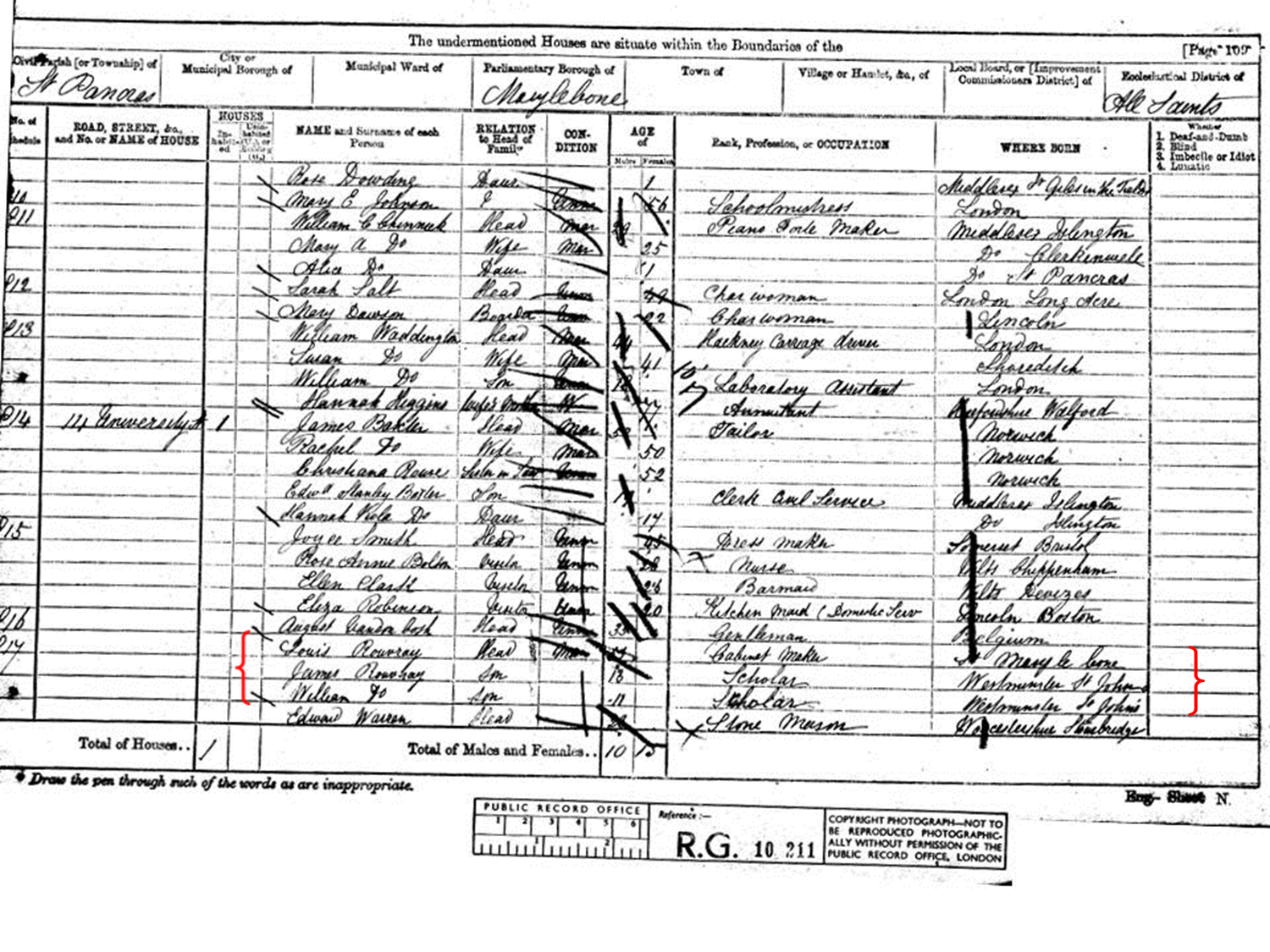 • Louis Rouvray is named as a witness on his brother James marriage certificate
• Louis named his son 'James Joseph', James Joseph named his son 'Louis' and they both had sons named Frederick
• The family members were all literate, not a given at that time in history
• The person who informed of and was present at Louis' death was an M. Rouvray, widow of deceased. Louis was married to Mary Ann in 1836
As can be seen from the 1871 Census we know that Louis, like his brothers, was a cabinet maker. An advertisement appearing in the Melbourne 'Argus' in 1860 gives his work address as 'Broadwood Factory, London' which was a famous pianoforte company, so presumably, like James Joseph, Louis was also a 'pianoforte maker'.
He married (Mary) Ann Brand (b. c. 1814) on 17 Apr 1836 at St Anne's Church, Soho, Westminster, London, the same church as James's marriage two years before. Mary Ann is known to have been born in Hertfordshire (1851 census) and is thought to have been christened on 16 Jan 1814 at Gilston, Hertfordshire, the daughter of Thomas and Mary Brand.
Louis and Mary Ann had seven children over a 20 year period:

Thomas Louis		1841-1902
Mary Ann		b. 13 March 1844
Emily Martha		b. Jun qtr 1846, m. Dec qtr 1863
Frederick George	b. Oct 1850	d.1936
					married:	Elizabeth Ann Roberts, 1 Jun 1868, Stepney , d. Mar Qtr 1936 Reading, Berkshire
					children:	Emily Rose b. 2 April 1871, Waterloo, London - d.1950
Charles			b. Jun Qtr 1855,?d. 1857
James Joseph		1857-1925
William Walter	1860-1913

On 24 October 1892, Frederick George appeared before the court of New Windsor, Berkshire, charged with attempted suicide and was placed on a three month bond.
Louis died 27 November 1875 in Kentish Town, Middlesex. His death record, registered at Pancras, states he was 57 years of age and gives his surname erroneously as Ronvray. This small typographical error resulted in a decade long search for his death certificate. His wife Mary Ann died in 1880, aged 66, also registered at Pancras.
Louis Rouvray [Ronvray] Death certificate
27th November 1875, aged 57