James Hartley Rouvray (1885 - 1968)
James Hartley Rouvray was born 18 Aug 1885 in Prahran, Heidelberg, Victoria, son of Charles Peter Rouvray and his wife Martha Ann (Holt). His father was one of a family of children born in London, who married in Melbourne.
| James Hartley Descendants | James Hartley |
| --- | --- |
| | |
James married Mabel Caroline Spence on 12 June 1912. After a time in Queensland, James and his family moved back to Victoria during the 1920's, then to Albury and later Sydney.
James and Mabel had three children:

Enid Mabel		11 May 1913 - 9 March 1999
				married:	Owen Skillen 5 October 1952
Charles Hartley	1916-2001
Vernon Spence	1919-1998

James also met Violet Maggie Croy, daughter of George Croy and Margaret Kearney. Violet was born 1891.
James and Violet never married but had one child namely:

Leo Michael Croy	b. 24 November 1926, Victoria, Australia	d. 2003, Western Australia

If they had married this child and his male descendants, of which several exist, would likely still bear the Rouvray surname to this day. James died in 1968 in Katoomba, New South Wales, Australia.
The photo below was taken at Enid's wedding in 1952. From left to right at back are Vernon Spence and Margaret Rouvray, Enid and Owen Skillen, Jean and Charles Rouvray with Mabel and James Hartley Rouvray in front.
Vernon Spence, Enid Mabel and Charles Hartley, 1952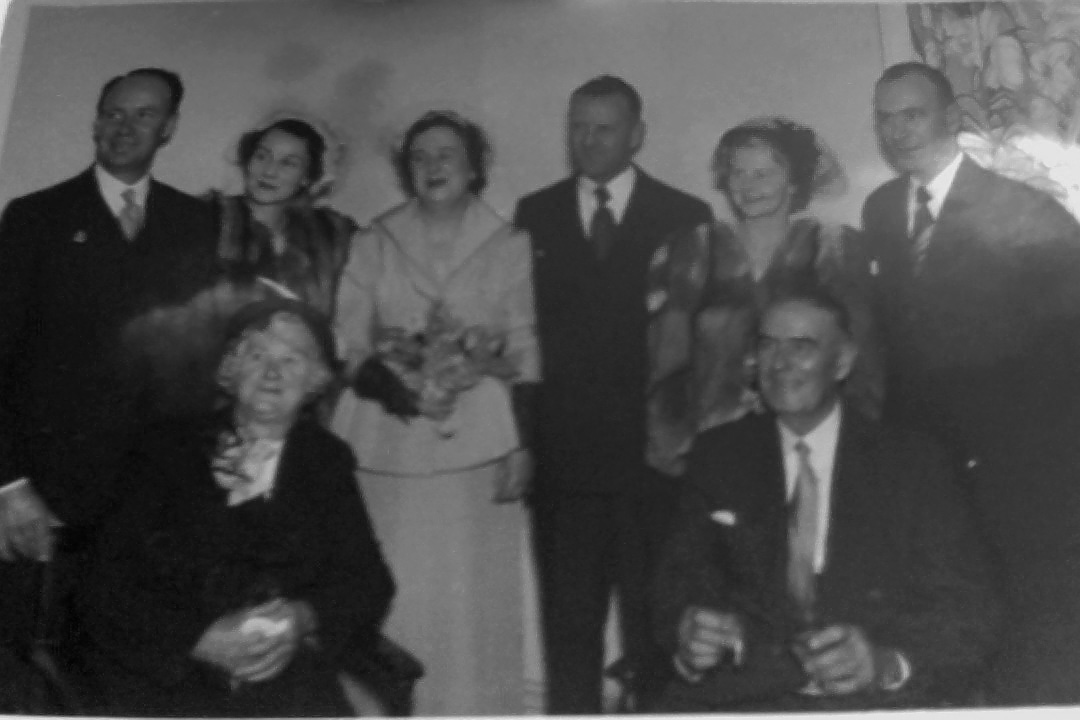 Fox's "History of Queensland : its People and Industries" (1919) contains a biography of James Hartley Rouvray and states the following information:
'James Hartley Rouvray, J. P., of "Spring Vale", Taroom, is a native of Victoria, having been born at Hawksburn, a suburb of Melbourne on August 18, 1885. He is the youngest son of Mr Charles P. Rouvray, who for nearly half a century was a prominent figure in commercial centres in that [part of Melbourne] known as 'The Lane'. A Lancastrian by birth, Mr C. P. Rouvray springs from an old English family which can trace its ancestry back to the time of the Huguenots. [N.B. It was actually C. P.'s wife Martha who was Lancastrian.] Like his forefathers, leaving the land of his birth, he came to Australia in the fifties and after a long and honourable business career is now living in retirement in Melbourne.
James Hartley Rouvray received his education at the Toorak Grammar School, at the age of 14 years joining the staff of the Braybrook Implement Company, forerunner of the Hugh V. McKay Company, famous as the manufacturers of the 'Sunshine' harvester and other popular machines and implements for farming purposes.
While still in his teens, he launched out in business on his own account, but finding indoor life not conducive to a robust state of health, he decided to relinquish this mode of making a livelihood and turn his attention to the land. In furtherance of this decision he proceeded to Strathmerton, Victoria and spent two years in gaining experience in the various branches of mixed farming. The knowledge thus acquired inspired him with confidence to start an independent enterprise and having noted from time to time excellent reports of the industry in Queensland he selected the Northern State as his venue of operations.
Arriving in 1906, he first worked for a time on 'Jesslands' Station under the late Ralph Clifton, at a later date taking over the management of the property. Having made himself thoroughly conversant with the climatic and other conditions, ultimately he took up a lease on the Roche River, in the Taroom district. He soon found however, that the area was not sufficient for his purpose and disposed of the place.
Mr Rouvray then purchased his present estate, 'Spring Vale' and has since continued the development of this property which at the present time is worthy to rank with the best holdings in the district for its size, being included among the most complete and excellently managed homes on the Dawson River.
'Spring Vale' comprises some 22,000 acres of splendid cattle country to which industry the run is given over in normal seasons as many as 1,500 of the popular and successful Hereford type finding adequate pasturage over its grassy areas. The estate is well watered by the permanent flow of the Dawson, this supply being augmented by several perennial springs and on the back portion of the run by dams. Fencing operations have been carried on steadily and over 25 miles of posts and wires keep the stock securely enclosed.
The present homestead was built by Mr Rouvray while the original dwelling-house is utilized for offices, kitchen and other like purposes. The new residence is a substantial structure of good appearance, containing large and well-ventilated rooms, an exceptionally wide verandah providing a shady retreat from the intense heat of the sun.
Mr Rouvray takes a deep interest in all matters bearing on the welfare and progress of the district and was vice president of the Taroom Agricultural Society. He was one of the founders of the Roche Creek Progress Association which has taken a prominent part in the furthering the advancement of the district and is well to the fore in all forms of sport conducted on clean lines. He holds the Commission of the Peace, having been gazetted to that office by the Kidston Cabinet.
Mr Rouvray married in 1912, Mabel, daughter of the late William Spencer, [should be Spence] of Goulburn Valley, Victoria and has one daughter. [By the time this was published in 1919, he would also have had two sons.] The Spence[r] family came of old Scottish stock and after settling in Victoria played a prominent part in the early development of the country, doing more than their share to establish the farming and grazing industry on a sound basis in the "Garden State". Since the foregoing was written, Mr Rouvray has sold 'Spring Vale' and now is in business in Miles as an auctioneer and stock agent."
Charles' wedding and James Hartley's three children, 1941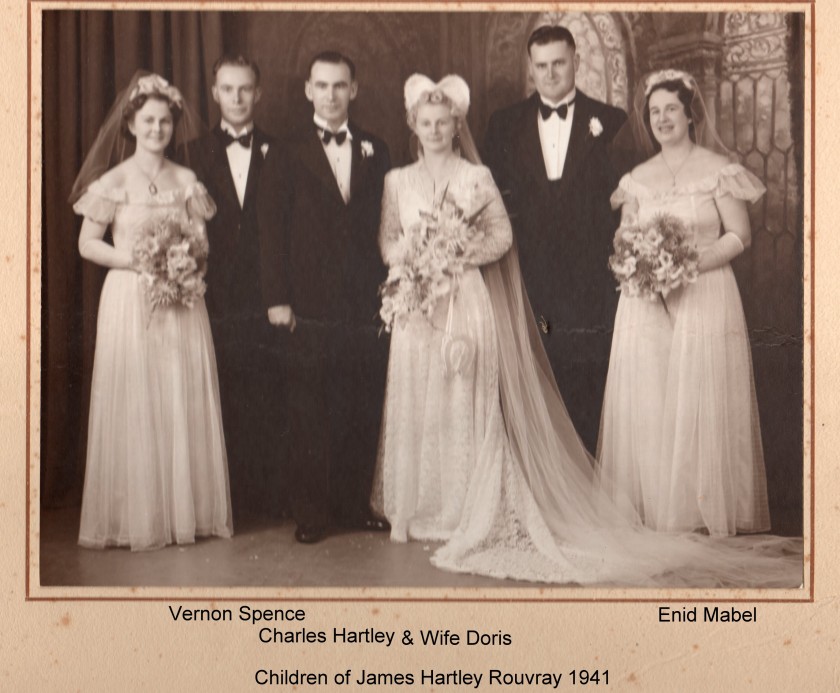 Early Rouvray History as told by Vernon Spence Rouvray (Vern) approx. 1942.
As far as I know my Grandpa Charles Peter and Grandma Ann Martha (maiden name Hartley) Rouvray had both passed away before I was born. They had English parents and migrated from England to Australia around the 1880s [was 1854] and their children were born at Prahran including my dad James Hartley who took me out to have a look at the home where they used to live. That was during the 1932 December school holidays.
Dad had an older brother Herbert and a younger brother Charles who sadly died at the early age of 21 with tuberculosis. He had 3 sisters May, Amy and Lillias [there was also Alice]. His brother Herbert had 3 sons and I can remember them joining us for a day out at Brighton Beach. I can also remember Auntie May was married to Bert Corke and they had one son and two daughters, whom Dad and Mum used to keep in touch with and exchange visits.
Dad seemed to be in contact with his brother Herbert and sisters Amy and Lillias after we moved to Albury. Dad had a cousin Marcus Rouvray who had sons but I never met them. I think Dad lost contact with him when he married and moved away up into Queensland.
Dad's brother Charles Peter spent a few years with Mum and Dad on their property up at Taroom [near Roma in Queensland] but he must have died or returned to Melbourne before Dad took over the Stock and Station Agency in Miles Queensland.
From what I was told, Dad became a very good cricketer up in Queensland and was included in a squad of country cricketers to represent a Queensland country team to play against a visiting English team. However he had to withdraw from the squad, because of the volume of work on his property, mainly horses and cattle!
I can remember watching Dad play cricket in Albury when he was well over his prime around the age of 45.  He was a very powerful stroke maker especially off the back foot. Also a good spin bowler who could vary his flight and spin. He often tried to buy wickets by spreading his field out and tempting the batsmen to have a hit. But sometimes it backfired when the fieldsmen dropped catches away out near the boundary.
In his early school days, Dad and his young brother Charles used to sing in a choir at South Yarra's Christ Church cathedral. I had a look over it when holidaying in Melbourne in 1970s. It is a beautiful historical church, so big. There was a record of a choir made that Dad used to often talk about but we were told they never kept any record of who sang in the choir each year.
In January 1933 I was taken from Melbourne to spend some more of my school holidays with my Spence aunties on their farm. The wireless radios in those days were operated with car batteries as there was no electricity in the home. They relied on kerosene lamps. I was able to listen in to the broadcast of the 3rd test in Adelaide where the bodyline tactic really exploded. Australian captain Bill Woodfull got a nasty blow over the head and Bert Oldfield wicket keeper got knocked out and had to retire from the match. Bill Ponsford took a battering because he kept turning his back on the bouncers, while scoring 83 runs.
The broadcast was nearly drowned out at times by a very angry crowd who hurled their abuse mainly at Jardine and Larwood. Police were rushed to the ground fearing that some of the crowd might jump the fence and attack Jardine and Larwood. Bradman got caught out in the big trap for 8 and scored 44 in the 2nd innings with some reckless batting. England won the test by a big margin and took out the series 4-1.
Charles left school and obtained a job in a drapery store McLennan and Son.
I commenced school at Albury High School and got through the year with an average pass. I could have done a lot better if I had studied more at home instead of working on football and cricket scrap books. I enjoyed playing in the school cricket and football but never looked like becoming a star player
I think 1933 was the year that the famous aviator Charles Kingsford Smith kept his promise to visit Albury. I was among a big crowd who assembled at the Albury Sports Ground to welcome him. Kingsford Smith found the Sports ground to be much smaller and more difficult than he expected. However he made a perfect landing on the third attempt to a wonderful welcome. He thanked all the people of Albury on their reception and then suggested Albury should look to the future and have a convenient airport for planes to land on.
Early in January 1935,  a situation arose for me to leave school unexpectedly. Dad, who was a clothing manufacturer's agent, had worked up a good agency by travelling around towns from Balranald to Tumut, Wangaratta in Victoria and Riverina towns such as Lockhart, Wagga etc. Dad felt he needed a partner to help him and asked Charlie if he would like to work with him and share driving the car.
So Charlie left his job at K. McClennan's Co Drapery store and the junior lad Herb Mason was promoted to his job and the manager Mr Rowlands approached me to see if I was going back to school or would I like a permanent job with him. So I accepted the job, which was a stepping stone to bigger things. I started off as messenger boy, sweeping the footpath, cleaning windows, posting letters, doing the banking and delivering parcels.
During those years, Albury had an A and B grade cricket competition. Albury High School had a team in the B grade, comprising of ex-High school students. Charlie was playing with them and on two occasions took a hat trick. As I had just left school, I was invited to play in the last two games of the 34-35 season. During the winter I used to regularly go to watch the Albury West playing football on the Saturday afternoons. I did at times miss my school friends.
Charlie was very happy driving around in his job with Dad. Enid was progressing very well too with her job in Mates Limited. At the commencement of the 1935-36 cricket season I was selected in the Albury High School as being the youngest player. On a couple of occasions Dad took Charlie and me to the Albury railway station in the evening to say hello to the Victorian cricketers who were travelling by train to play against N.S.W. in Sydney. Keith Rigg and Hans Ebeling were very nice and friendly to me and Lindsay Hassett spoke to me too.
1936 brought about a big change in our lives. Dad was offered a big sales representative position in Sydney which could accommodate jobs also for Charlie and myself. So we all moved away from Albury in April and took up residence in the harbourside suburb of Mosman. Dad retained his Albury agency by employing a former McClennan's employee, which fell apart later on.
The cricket season had just finished in Sydney. It took me a while to get used to the busy city life and I found it hard to make friends during the winter months. I used to spend my Saturday afternoons watching Australian Rules football and later baseball which fascinated me."